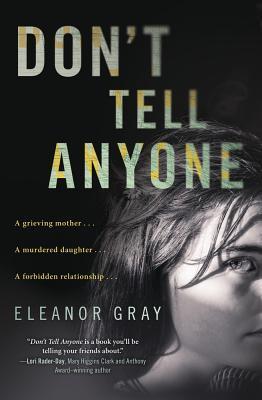 Nearly lost in a fog of grief over the fatal stabbing of her daughter, art historian Grace Neville feels only sorrow as Jordan Dukes is found guilty of murder. Days after the sentencing, Grace receives a visit from Jordan's father, who claims that his son is innocent and a grave miscarriage of justice has taken place. Jordan's history of gang-related violence and the factNearly lost in a fog of grief over the fatal stabbing of her daughter, art historian Grace Neville feels only sorrow as Jordan Dukes is found guilty of murder. Days after the sentencing, Grace receives a visit from Jordan's father, who claims that his son is innocent and a grave miscarriage of justice has taken place. Jordan's history of gang-related violence and the fact that he doesn't have an alibi make his father's plea hard to believe. But then why does somebody break into Grace's home and go through her daughter's belongings?In Don't Tell Anyone, Eleanor Gray explores the relationship between a mother and a daughter, and the secrets that drive Grace to seek the truth no matter what the cost.Praise: "The disparate pieces of this intricately plotted mystery come together in a satisfying manner that will please readers of Ann Granger and Antonia Fraser."—Library Journal"Eleanor Gray's Don't Tell Anyone is a book you'll be telling your friends about. The voice—and anguish—of Grace Neville compels us toward answering the question we may have all wondered: What if we don't really know the people closest to us?"—Lori Rader-Day, Mary Higgins Clark and Anthony Award winning author of The Black Hour and Little Pretty Things...
| | | |
| --- | --- | --- |
| Title | : | Don't Tell Anyone |
| Author | : | |
| Rating | : | |
| ISBN | : | 9780738750224 |
| Format Type | : | Paperback |
| Number of Pages | : | 384 Pages |
| Status | : | Available For Download |
| Last checked | : | 21 Minutes ago! |
---
Don't Tell Anyone Reviews
Don't Tell Anyone is a decent read, a mystery/thriller, well-written, fast-paced and keeps you guessing until the very end. I thought the final mystery was a little too convoluted, but, as far as mysteries go, this was a pretty good book. Thank you to Netgalley and Midnight Ink publishers for an advance copy of this in exchange for an honest review.

Novel received courtesy of Goodreads.com First Reads GiveawayA teenage girl is murdered, her boyfriend convicted and locked up, that should be the end, but it's only the beginning. After Tara is murdered her mother is convinced that the wrong person has been convicted. As she discovers one small thing after another about her daughter, the big picture is almost more than a mother can bear. The visceral grief of this mother is what is often lacking in a murder mystery but Ms. Gray captures it vividly. At times, I had to put the book down for a bit until I could refresh my mind. This is an excellent novel.

Grace Neville is coming to terms with the stabbing death of her daughter, Tara. At sixteen, Tara had only begun to live .. and love. Her boyfriend, Jordan, was accused of the murder, and convicted. He now resides in prison for the next 18 years.Out of the blue, Jordan's father, Allan. comes to visit Grace. He is adamant that his son did not kill Tara. True ..he was mixed up in a gang. True .. he did things he was ashamed of. BUT .. he is not a murderer.Grace understands what he's going through; after all, she's dealing with her own loss. Grace is not willing to listen until someone breaks into her home and goes through Tara's belongings.Is there a chance that Jordan was innocent? Is the real killer still walking free? Grace begins to investigate on her own and what she finds stuns her very soul. She thought she knew her daughter …. She didn't. And now her own life is in danger.This is a well-written mystery/thriller, fast-paced. The characters are fully developed. The suspense is held in check until the shattering ending. Many thanks to the author / Midnight Ink / NetGalley who provided a digital copy in exchange for an honest and unbiased review.

This Review was first published on: http://marelithalkink.blogspot.co.za/...Don't Tell Anyone is one of those books that you can actually tell everyone about. Most readers enjoy a good Whodunnit every now and then. Don't Tell Anyone is a decent mystery with a twist or two in the tail.Grace is devastated after the brutal stabbing of her only child, Tara. Her "almost picture perfect life if you take in account where she comes from" was already shattered three years ago when her husband, Archie, walked out on them for a younger, blonder, version. After Tara's death, she basically stopped living. She went through the motions of the trial and when Tara's boyfriend, Jordan Dukes, is convicted of the murder, she thought - just like everything else, this is over. A couple of days later, Jordan's father Allan Dukes, appears on her doorstep claiming that his son is innocent and Grace is the only one who can help him proof that. Grace can't seem to shake the feeling that perhaps Allan is right and when she discovered someone was snooping around in her house, she starts digging."Secrets might be taken to the grave, but they are rarely kept there."A strong point in favor of this novel was the characters. They came from all walks of life and they were all portrayed very well. Grace's family is a real lucky packet, but to me, it was this family dynamic that kept the story together most of all. Grace's ex-husband is woosy and although there is a very interesting twist regarding his new blond girlfriend, I had no sympathy for him. Both Grace and Allan are victims of their children's bad choices. That makes it a bit more of a family drama. No matter how hard you try to raise your children well and make the best of difficult circumstances, they will still follow their own minds. Children lie, they hide things from their parents, they make devastatingly bad choices. Don't Tell Anyone kept me guessing until the final chapter. The revelation was a bit of a let down however. It will be really very hard for anyone to make an accurate guess about the whodunnit. It was a bit like one of those Murder She Wrote episodes where the killer is randomly picked five minutes before the end. (No, it wasn't the lawyer)

3.5 FangsGrace Neville has lost her daughter. She hasn't even finished grieving for the loss of her marriage when her daughter is murdered, stabbed in a hotel room. Her ex-husband Archie left her three years ago for a younger woman, Kristina, but Grace has never stopped loving him. After the death of Tara, Grace has stopped living. Her grief is profound and never ending. She goes through the motions, including attending the trial of Jordan Dukes, the man responsible for her daughter's death. She feels some peace when he's sentenced to prison for many years. Not soon after, the father of the accused, Allan Dukes approaches Grace and creates doubt about who murdered her daughter. Grace can't seem to shake the uncertainty which becomes stronger when she realizes someone has been in her home and gone through her daughter's things. I thought this was a good suspense novel. It had a few twists with the "who done it" changing a time or two. I liked Grace, despite her obsession with her ex-husband who was a spineless loser. I wanted to shake her a few times and say: open your eyes! Her family dynamic was also crazy. Her relationship with her sister was a mess. One character I was surprised to like was the mom's boyfriend. He was tough and was ready to keep his "family" safe. Too bad he couldn't help Tara. Don't Tell Anyone had a good pace and a few surprises too. I would be happy to read another book by this author.Cliffhanger: No3.5/5 FangsA complimentary copy was provided by the publisher via netgalley in exchange for an honest review.MrsLeif's Two Fangs About It | Facebook | Twitter | Instagram

"When your child dies, hope and reason for living dies too." Grace Neville's daughter, Tara, was stabbed to death in a seedy hotel and the man responsible is behind bars. It's over, time to move on -- except that convicted Jordan Dukes' father, Allan, appears at Grace's door claiming that his son -- Tara's boyfriend -- is not the one who murdered Tara. It appears that both Grace and Allan are "victims of their children's bad choices" and soon they are both caught up in trying to figure out who really killed Tara, and why. This was a very convoluted mystery involving many red herrings as "Tara's dirty secret" is finally discovered and outed. There are many characters, some more believable and complicated than others, and the revelations were a bit of a let down and somewhat "out there" as the narrative winds down at the conclusion. Definitely a domestic drama more than a suspense thriller, it held my interest well enough and I think it would be hard for anyone to make a good guess about the whodunit. Grace is, of course, completely undone by the death of her daughter and Grace's ex, Archie, who left her for another woman, is sorta creepy and doesn't follow along with Grace's conviction that the wrong man is in prison. The police are not portrayed very well.In all, this was not pulse pounding but kept me guessing. It always comes back to the truth, we do not really know ANYONE - despite our firmly held idea that we should know our own children inside and out. I did like some of the quotes in the book well enough to cite another: "There are so many countless ways that Fate can snap its fingers...all those desperately sad yet banal and everyday packages of pain that life has in store for the unwary."Thank you to NetGalley and Midnight Ink for this e-book ARC to review.

This book was outstanding, it blew me away. I honestly can't say I couldn't wait to read this book, I just happened to stumble upon it on Netgalley and took a chance. I am so happy I did, because this book was everything!! From the plot to the characters to just everything, I loved it.ARC REVIEW

Great read full of twisty tension! :)

Don't tell anyone by Eleanor Gray is a mystery and thriller and general fiction (adult) read. Art historian Grace Neville watches Jordan Dukes sentenced for the murder of her teenage daughter, Tara. A few days later, as she attempts to come to terms with her loss, she receives a visit from Jordan's father, Alan, who claims that his son is innocent and that a grave miscarriage of justice has taken place. Jordan's violent history in a notorious gang, plus the fact that he doesn't have an alibi, makes Alan's story a hard sell . . . until someone breaks into Grace's home and goes through Tara's belongings.A good read. Little slow in places. I liked the story and the characters. 4*. I voluntarily reviewed an advanced copy of this book from netgalley.

This blurb is full of promises. A dead teenager daughter. A sentenced boy who might or might not be a killer. Justice gone wrong. Gangs. A search for the truth. A close look at a mother/daughter relationship. And most importantly: secrets.But the biggest surprise for me was that I finished this book.I admire authors who decide to make their characters unlikable. Most readers don't mind it and it is okay for me, as long as the protagonists manage to make me feel emotions, even though it is only anger or hatred. I need emotions, good or wrong, to get involved. After all, you don't have to be chummy with all the characters you meet, just as you don't friend every people you meet in the street or spend hours locked in a study room with. But I like my unlikable characters to have a motive for not being what I expected of them. Here, Grace was just a woman I would never want to talk to, would I ever have the luck to meet and get to know her.It all started with the opening. Grace and her husband are taking a break and decide to tell their daughter. A few lines in and I knew Grace was not my kind of woman. Yes, she was understandably hurt, yes she felt betrayed, but her inner thoughts and reactions sounded a bit off to me. She was clinging to a man who obviously had no more concern for her well-being. I know, it happens a lot. So I let it go with a rolling of my eyes and a sigh."I've never been very good at being on my own."But the next chapter condemned her character to be one of the few I don't want to remember in a couple of weeks. I am a big fan of "show, don't tell." Except here everything is told and what is showed is unnecessary. I can only take so many times a character saying how sad and hollow she feels and just how no one can understand. This is what you get throughout the story, as Grace clings to memories, false hopes and questions about her daughter. I could have coped with a grieving mother if only she hadn't been so madly in love with her husband and ready to forget everything just to have him back. I guess I expected a strong woman fighting for her daughter, but I met a weak ex-wife in need. Grief can make you do all kind of things, but it was Grace's personality I had a problem with. If I was angry with her at first, I soon stopped caring for her."Everybody has a secret life, a fantasy world in which they are beautiful or handsome and when they can have whoever in whatever way they choose."I do need to mention Doug, the only character I warmed to in this story. Big, capable, who can't be quite called innocent. A Doug is handy to fix issues you can't handle yourself.Grace's family was colorful but again everything was shown instead of letting the reader make their own opinion through the characters' actions, which made the whole thing rather dull.Tara was a shadow that I never really got to know or understand, a typical teenager with crises, secrets, and lipstick. Her relationship with her mother is only explored in a superficial way to remind us just how good children are good at hiding things from their parents. I wish I had seen more of their days together to confront it to Grace's grief and understand her a little better. I did feel sorry for Tara's boyfriend at times, as well as his family, but our connection was also too superficial to make me care about what would happen to them.With all of this said, why did I finish the book in one sitting?I blame my unhealthy need to be right! See, a couple of chapters into the story, I was debating whether or not to give up on the book when Jordan's father met Grace to convince her his son was innocent. My interest was kindled and I wondered what would make Grace believe him. I kept asking myself how I would react if faced with the same situation. Pages later, a couple of hints appeared and my brain went full on into all-scenario-possible mode. The author had managed to pick my curiosity somehow, despite my lack of feelings for any characters. It certainly had to do with the suspect-husband trope I love so much. Also, Tara had a "big secret" and this word acts like a spell on me. A secret means there is some digging to be done and boy do I love to dig! I ended up with a weird but plausible theory. Theories are good so long as you can verify them. I had no other choice than to rush through the book to check if my instinct was right. The pace of the plot was quite uneven, steady at times, too slow or on the fast track in some chapters, but there was definitely enough red herrings to keep me going. It turned out I was right, so no big surprise but it always feels good when you unravel the truth before it is revealed to you.The ending itself felt a bit rushed and easy when you think of just how many things Grace had to go through to reach the truth. The gang aspect was a good one but I felt it could have been explored more instead of only relying on clichés and a quick denouement. I had a hard time believing Grace's issues could be resolved in a couple of hours by the snap of a finger, no matter how capable the fingers! All questions were answered so I did not feel cheated but it doesn't mean I was satisfied.Overall I feel Don't Tell Anyone had a promising synopsis and a lot of potential that was not explored enough for me to get involved with the plot or characters. You might enjoy it if you are looking for an easy read in the psychological thriller genre.I would like to thank the publisher for sending me a copy of this book through NetGalley in exchange for an honest review.

This was a fast read that had me going back and forth with the motives and the "whodunnit." I rather liked it. The author, being English, definitely incorporated the language that made it interesting to compare what she said into what I know! The main characters were developed, however the revelation of who actually killed the daughter came fast. I appreciated the strength of the mother to pursue the truth about the murder without a lot of "that would happen" events. How I discovered this book was I simply pulled it off the shelf, did a book interview of it, and decided to give it a go. I was pleasantly surprised because I have read nothing from this author before.

This was quite a good mystery that certainly surprised me in parts. The author points you toward a few suspects but never really tips her hand, as far as I was concerned, at least. Well done mystery, good beach read.

What if the police got the wrong person for murdering your daughter and they were now out to get you but you have no idea who it could be?Grace could finally hear the verdict on her teenage daughter's murder, condemning the girl's boyfriend to a minimum of 18 years. But his father shows up on her doorstep with arguments far more convincing than those used by the defense. She is surprisingly the only person who believes in him and his son. But who did it then?I believe this was a good story. It had all the elements: a good twist—oh this the book had to spare—, kept me guessing until the final reveal and the answer to all wasn't unbelievable. However, I was still warm about it.First, the narration dragged. Too much analyzing on the main character's part had me skipping every longer bit—it's amazing how I could still get into the character but Grace was nice. Also for a book with so much contemplation, the romance was too forced. I don't want to spoil anyone but the couple seemed fixed and no chemistry between them. To be honest, I was a little grossed out when I first noticed the author's intention of getting them together—I did get used to them eventually while cheering against them until the end. Also the secrets revealed made me feel the same. It's like the author had that great idea for a twist but not substance in it. And I can't blame her for any of those points, I think this was lack of editing and a third-person's (honest) opinion. It is a pity because if better finalized, this book could be gold. As it is, it fell flat.On the other hand, it's not hard to read and the back story was very well thought. I won't say I was surprised by the big secret but in no moment I felt it to be too predictable. I actually enjoyed a lot the journey until we got to the real culprit.This may a good book for group reading... It does have several interesting themes even if they are not that developed. And I really wanted to list them but again, it would need a spoiler alert. The main one, of course, is mistrial, as well as how bias can influence and blind a police investigation.To be honest, this is a story I will remember for a long while despite the rating I'm giving. So don't give up reading if you can be prepared for those flaws above.Honest review based on an ARC provided by Netgalley. Many thanks to the publisher for this opportunity.

I really enjoyed this book. It flowed really well and had sufficient twists and turns to add interest, and the characters were believable.

This was a quick read for me. I picked it up because it was one of Scribd's Selects for March. It was a really addicting thriller, but I can't say that I remember much of it now, three weeks after reading it!

A woman goes through the harrowing experience of first learning that her daughter was killed and then sitting through the killer's trial. Although the police deem the case airtight, later the mother must deal with certain unsettling facts that make her wonder whether the right person got tabbed with the crime. Author Eleanor Gray makes her thriller debut with the mostly satisfying book Don't Tell Anyone. Grace Neville has lived through the worst life can throw at her. Her husband cheats on her and they get a divorce. Years later, their only daughter, Tara, is brutally murdered. The accused: Tara's boyfriend, Jordan. Despite Jordan's repeated assertions that he would never hurt Tara, the police use Jordan's strong associations with a gang to make the natural assumption.Finally, after Jordan's trial, conviction, and sentencing to 18 years in prison, it seems as though Grace might have a chance to trying to spend some time understanding what her life has become. The debilitating loneliness threatens to overwhelm her, but she tries to take in one day at a time. After all, she's experienced the most awful circumstances. Surely nothing can hurt or surprise her anymore.Nothing—except the fact that Alan, Jordan's father, shows up on Grace's doorstep insisting on Jordan's innocence. Grace wants to dismiss him and his audacious claim, but as he talks a small worm of doubt begins to wiggle its way into her certainty. When someone breaks into her apartment and goes through Tara's things, Grace begins to realize that Alan might be telling the truth. Or some version of it anyway.As she starts asking questions and digging into her daughter's life, Grace understands that the entire situation surrounding Tara's death may not be quite as straightforward as she once thought. She tries to reach out to her ex-husband, but that becomes difficult because he still lives with his mistress. Also, something about her ex-husband's caginess regarding his relationship with Tara doesn't feel right to Grace. The entire thing, in fact, doesn't feel right, but the answers she gets to her questions just keep leading to more questions. Author Eleanor Gray keeps the line of tension taut in Don't Tell Anyone. The title fits the book well. At every turn, main character Grace faces more secrets and more inquiries. She barely unravels one when another one comes right along to confound her yet again. Gray manages to convey Grace's immense grief in Tara's death while at the same time moving the story forward.Because the story is set in England, Gray uses a great deal of cultural slang. Non-native readers might not recognize all of the phrases, but the context allows for enough inference. Most readers will probably enjoy the chance to indulge in a different vernacular, but occasionally they might feel lost during some non-essential parts of story. The slang definitely adds to the authenticity of Grace's situation and state in life, however, so readers will most likely forgive Gray her choice to stay well established in that speaking style.The antagonist will certainly come as a surprise, although the revelation of that person's involvement in Tara's death feels slightly rushed. Still, for the most part readers will enjoy the reliable pace of the book. I recommend readers Borrow Don't Tell Anyone.(I volunteered to write an honest, objective review of this book after receiving a copy from the publisher.)

I received an ARC from the publisher via NetGalley in exchange for an honest opinion. With that said, I did not enjoy this book at all. After reading thrillers, such as My Girl and Behind Closed Doors over the last few months, I was really excited to read Don't Tell Anyone because I thought it would be just as intriguing as the books I've enjoyed. The synopsis hooked me from the start, promising to be another great psychological thriller, but sadly, I did not share the same enthusiasm for this book that I had hoped.Narrated from Grace's point of view, the book opens with a prologue that exchanges some basic dialogue between Grace, her daughter, Tara, and her soon-to-be ex-husband, Archie, who is leaving Grace for another woman, Kristina. Then we shift from this exchange and jump right into Tara's murder trial where her boyfriend, Jordan, is convicted of killing Tara. There's a lot of pointless scenes and dialogue after the sentencing that takes places between Grace, her family, and her ex-husband. Grace is still hopelessly in love with her ex-husband, and I wanted to shake her and talk some sense into her because he left her for another woman. There's no reason to sit around and mope about a guy who left you for someone else. She was wearing on me with her, "What would Archie think of this or that?" scenarios. Why cares! I couldn't stand this part of the book because it made her look even more pathetic. The man cheated on her and left her for a younger, richer version, all because he came from money and gave up his inheritance to pursue his dream of becoming a nurse and marrying Grace. Everything in this book seemed to come down to money with these people, and I honestly couldn't stand any of the characters. Tara was probably the most likable and she wasn't even alive in this story, except for what was shown of her through flashbacks. Jordan seemed like a decent guy who actually cared about Tara, so I was able to get behind the innocence story Jordan's father, Alan, approached Grace with. Grace was such a gullible character that it often wore me down. She was too trusting of Alan, the father of a gang banger who allegedly killed her daughter, and according to a court of law, did kill her daughter. I saw through the plot from the beginning. I knew who had their hand in killing the daughter, so when the truth wad revealed, I yawned and wished the end was near. I was hoping the last twenty pages would reveal something completely shocking, and while there are some surprises in this story and the killer isn't someone you will figure out initially, the motives of the characters were too easy for me to figure out.If you like a good thriller, I would go with the two I mentioned at the beginning of this review. This book didn't grip me from beginning to end, even though I read it within a few hours. I attribute my reading pace to wanting to get this over with and find out who killed Tara more than the fact I was so engaged I couldn't put the book down. The writing is solid and the plot is interesting, but I felt it was a bit predictable. It's not a bad book. It's a decent read, but I feel as though this book will disappoint anyone who routinely reads mysteries and thrillers.Note: I will post my review on my blog, Twitter, and Amazon the week of the pub date.

Tara was thirteen when her father Archie and her other Grace are separating and Tara is furious until Archie brings up the fact Tara can come visit him at Kristine's and will have her own room with a connecting bathroom and also have friends over for the night. Grace is devastated Archie is leaving to live with his mistress and Grace still loves her husband. Archie had rich parents and walked away to become a nurse and marry Grace and his parents disinherited him. Now Archie would be with his mistress who was rich and now there would be money again. Tara was excited about visiting her dad but also felt bad for her mother. Four years later Tara was seventeen and had been murdered by her boyfriend Jordan Dukes. Grace had seen Jordan three times while he and Tara were together before her murder. Tara had liked Jordan's swagger, stable and quick wit, and Jordan always had a cheesey answers for everything. Jordan showed no remorse and was silent throughout the nine day trial. Jordan claimed he would never hurt Tara and was innocent and he cared about Tara. But Jordan's own defense team called Jordan a pathological liar. Grace had been drinking a lot since Tara's murder.Grace told herself several times she would stop drinking so much now she said she would stop drinking when the sun felt good on her face again and she didn't feel guilty to smile. Tiff- Grace's older sister- was the typical older sister and bossy but went to the sentencing with Grace. Grace was in a fog of her own grief and felt when your child dies that hope and your reason for everything dies also. It had been eight months and things weren't getting any better for Grace. Grace had lost a lot of weight since Tara's murder. Archie and Grace had met at a party in London when Grace had been studying at Goldsmith for her degree to be an art historian. Archie was a nurse at St. Thomas Hospital. Jordan was sentenced to life with eighteen years minimum for Tara's murder. One day Jordan's dad Allan stopped to see Grace out of the blue. Allan is absolutely sure his son Jordan did not kill Tara. allan said it was true that Jordan was mixed up in a gang and had done things Allan was ashamed of but Allan said Jordan was not a murderer. Grace understands what Allan is going through but doesn't doubt Jordan took her daughter's life until someone breaks into Grace's home and goes through Tara's things. Then Grace as well as Allan starts to investigate on their own . Grace is shocked at what she finds out about Tara and realizes she hadn't known her own daughter Tara. Now Grace was in danger as well as Allen.I had mixed feelings on this story. It had a good plot and was well written. But I got irritated when Grace kept thinking " what would Archie think". Archie left her for a rich younger woman get over him all ready. I also found this story dragged in places for me. This did keep me guessing - somewhat on who killed Tara . I didn't particularly care for most of the characters but perhaps that is what the author planned. The truth was also a bit far fetched when it was revealed for me at least. I did like some of the ins and outs.

https://thebookcoverjudge.wordpress.c...It is especially hard to discuss this book without giving away some of the surprises. I try very hard to keep reviews spoiler free, so I will remain as generic in my discussion as possible.This was a hard book to get through. I found the idea interesting — hello, family secrets! However, I was never actually drawn into the book. I found our main character, Grace, to be interesting and I felt so many feeling for her through her many levels of grief. And I supported her as she went out on her own to find out what actually happened to her daughter. Aside from Grace, I also liked Allan, Jordan Duke's father. Out of all of the characters in this book, those were the only two I found somewhat interesting and seemed to be the most developed.There are a lot of twists and turns in this book. Secrets upon secrets. And while I am a fan of family secrets, I felt that there were just one too many in this book. And some — specifically concerning Archie, Grace's ex-husband — did not seem necessary to me.I did not enjoy the writing style of this book. I felt that Gray was incredibly…too wordy throughout this novel. So many metaphors and similes that were not needed. So many discussions on what Grace was doing — we know she is grieving and having a horrendous time; do we need an entire section on her taking a nap, waking up to take pills, then going back to sleep?As for the characters, I found most of them to feel flat. And some — ex-husband Archie in particular –who Gray attempted to make more well rounded, just seemed forced. Grace and Allan, as mentioned above, were my favorites. I found them to be more completely developed than most of the other characters, maybe because I connected with them on an emotional level more so than the other characters.Once again, for the plot, I feel like there was just too much. The twists work (and the longer I am away from finishing this book, the more I think it works) but it seemed like too much going on. I feel like everything in this book could have done with another round of editing.

Grace Neville and her husband Archie divorced because Archie found a new, of course younger and prettier woman. Their daughter Tara, then thirteen, is really upset and angry but as girls in their teens do, seemed to come to terms with the new situation soon.What's left is Grace and Tara, when Tara is not with her father and his new wife, living in a small flat while Grace works in a gallery. She is an art historian and doesn't make much. Archie and Christine however, are loaded and they show it.Three years later Tara is murdered by her boyfriend Jordan and the story begins after the trial. Grace is still not over Archie and the dead of Tara was almost the final blow. She has given up on herself, drinks too much, worries too much, neglects her family and is angry with the world.Understandably so! When Jordan's father turns up to tell Grace he thinks his son is innocent, the story picks up and Grace finds it in herself to start living again and go and find the real killer.A well-written and moving story with some colourful characters, especially the members of Grace's extended family. Christine is really a piece of work and Archie is not much better, but Grace gets a lot of support from some people who are a lot nicer than they seem. What I don't understand is why Grace kept his last name. Certainly, when you go through a divorce you don't want to be known under another person's name? Once I started it was difficult to put the book aside.

This was an average novel in all ways. There wasn't anything particularly unique about the story or the characters. Grace is obviously a mother in pain, and the author does a good job of depicting her grief. However, that's pretty much the only commendable thing about this story. Grace is constantly confused, and her naivety can become quite annoying; she just tells everyone everything, and believes the first thing she hears. It took a long time for the story to develop and for the truth to become revealed. And when it did, it felt so far-fetched that I couldn't take the story seriously. The killer's identity was the most random thing I had ever read, and no matter what explanation the author gave, it just didn't make any sense at all. The one thing that bothered me the most was the romance angle that was introduced into the story. While it worked in the sense that the characters were compatible, I don't know if it was entirely appropriate considering the situation at hand. At the end of the day, this novel was decent but didn't satisfy my cravings for a good mystery/thriller.

I was given the opportunity to read this before its release through NetGalley and it wasn't a disappointment. The idea behind the book is that a woman goes through the stress and emotional trauma of getting divorced because her husband decides he is interested in another woman. A few years later their daughter is murdered and now this woman, Grace, is put into the position to figure out who murdered her daughter and how it is possibly tied to the woman that her husband left her for!This was a very good novel but it was also a book that I was capable of putting down mid-chapter. That doesn't mean that it wasn't well written or fascinating, but for me it was one of those books that didn't make me need to read "just one more page." Parts of it were not surprising to me, but I will say that the way that you go about figuring out who the murderer is definitely a decent surprise.I would absolutely recommend reading this book and sharing it with your family and friends! It was a fun ride!

If you like thrillers that leave you just enough clues to THINK that you have it figured out, then this might be the book for you. As I was reading, I picked up a few of the clues and I ran headlong into more twists. Most of the times I was right in my assumptions, but others, I was left saying: "Well, I'm an idiot." (3.5 stars.)Full review: http://ithinkihaveaproblem.webs.com/a...

I received this book from NetGalley and am so thrilled that I did. I have long been a fan of thrillers and this one really delivered. Poor Grace Neville has lost her husband and daughter - and has no life left in her. loosing a child is desperately hard and devastating and Eleanor Gray really described this with painstaking reality. Through all the twists and turns, Grace becomes stronger and seems to come back to life when she finds purpose in finding out what really happened. If you are a fan of thrillers- I definitely recommend 'Don't Tell Anyone'

I have to say that this is a decent mystery/thriller, although it did not keep me on the edge of my seat, biting my nails in anxiety. It did an okay job of keeping me bouncing between a few guesses throughout the book, and then, of course, in the end it wasn't what I expected. But, the big reveal was still pretty... tame? It wasn't shocking or anything, didn't shake my world. My reaction could pretty much be summed up with an "oh". Nevertheless, I had fun taking guesses of what actually went down.I was sent an ARC by Midnight Ink (thanks!) and this is my honest review.

I enjoyed this fast-paced mystery/thriller! From the very beginning you're thrown right into the suspense and not a dull moment follows. I liked Grace and the author does a great job of conveying her desperation and loss, but she is so naive and it was very annoying at times. The conclusion surprised and confused me, but not necessarily in a good way. It felt a little too random. Overall though, this was a fun and quick read.

*Review copy received from publisher*Although slow paced this is a well-constructed murder mystery. Ultimately the writing style doesn't flow and is weighted with heavy-handed explanations. Although full of internal dialogue and interesting, quirky, gritty characters, I felt distanced from them and couldn't relate to their lives.

I picked this up just to see if I would like it and after just a few pages- I knew I was in trouble--I did not want to put it down.Looking back gives us 20/20 Vision.We try to raise children the best way we can.We become victims of our children's bad choices.As she looks deeper, she gets deeper and deeper!!

Please check out my full review at https://coffeeandtrainspotting.wordpr....